HRVATSKO RATNO ZRAKOPLOVSTVO U DRUGOM SVJETSKOM RATU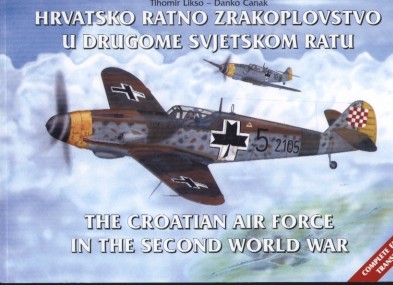 Knjiga je položenog A4 formata (poput 'In Action' serije knjiga), ali puno deblja, gotovo 150 strana. Knjiga je pisana dvojezično (hrvatsko/engleski) sa veoma mnogo fotografija i crteža (oko dvije stotine).
Za sve informacije o knjizi i narudžbi obratite se autoru na adresu:
Tihomir Likso
Kralja Zvonimira 279
35400 Nova Gradiška
tel. 035/351-611
ili na e-mail adresu: tihomir.likso@sb.tel.hr
THE CROATIAN AIR FORCE IN THE SECOND WORLD WAR
Book is in A4 lanscape format (like 'In Action' books), but with almost 150 pages. Book is writen bilingual (croatian/english) with many photos and drawings (about two hundread). Price is 40 DEM or $20 + pp.
For any info about book or order you can contact author on address:
Tihomir Likso
Kralja Zvonimira 279
35400 Nova Gradiška
Croatia
or on e-mail address tihomir.likso@sb.tel.hr

Povratak/Back