BUGATTI TYPE-35B


WINNER: GRAND PRIX DE MONACO - 1930
DRIVER: RENE DREYFUS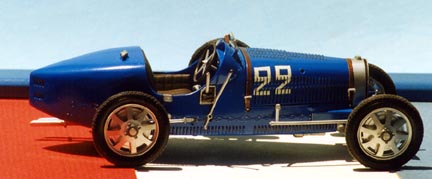 Model Subject

: Bugatti Type-35B
Kit used: Monogram, kit number 2234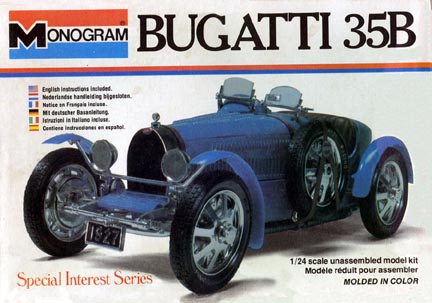 History of the racer modeled:
Ettore Bugatti has been variously represented as intuitive engineering genius, temperamental artist, freethinker, and patron of the arts of good living and good driving. It is doubtful if any of these several reputations is not exaggerated, but it would be more than unjust to suggest that Bugatti be dismissed as the first quantity producer of over-the-counter racing cars.
Admittedly the design of the Type-35 was strongly influenced by marketing considerations and admittedly the larger number of racing victories attributed to the machine were gained in minor events by amateurs. Devoted calculators have established that the Type-35 won a total of more than 800 events. Nevertheless the Type-35, together with the Type-51 which was derived from the Type-35 and resembled it very closely in everything except the cylinder head, won at least 35 road races of major importance in the span of seven years from 1927 through 1934.
The model exhibited here is a conversion of the Monogram Bugatti Type-35B in 1/24th scale. It represents the 1930 Grand Prix of Monaco winner driven by Rene Dreyfus, who entered the privately and defeated the team Bugatti driven by Louis Chiron.
After his victory Dreyfus was offered a ride with the team and remained with Bugatti until 1935, when he joined with Tavio Nuvolari to drive for Scuderia Ferrari's Alfa Romeo team.
It should be noted that the spare tire shown on the model was removed while racing after 1927 when the riding mechanic eliminated.

Building the model:
The passenger's windshield holes were filled and sanded, then replaced with a rear-view mirror constructed of card stock and aluminum foil. The driver's windshield was replaced with one cut from clear sheet styrene.
All fenders, headlights, and taillights were omitted and any placement holes for these items were filled and sanded. The temperature gauge was cut from the radiator cap as it was not used in racing setup. The front radiator stone shield was constructed of" copper wire and milkscreen and cemented into predrilled holes with super glue.
Engine wiring was constructed from stretched sprue and cemented into predrilled holes. Other tubes and wires were also simulated with stretched sprue.
Buckles for the hood straps and spare tire were cut from sheet plastic and opened up with an X-acto #11 blade. The straps were cut from auto striping tape and sanded with 400-grit sandpaper to cut down the gloss of the tape.
Exhausts ends were removed and replaced with like-size aluminum tubing. All brake-operating cables were simulated with very thin stretched sprue.