ACADEMY Messerschmitt Me-163B/S - 1/72 scale
Retail price: $9.50 US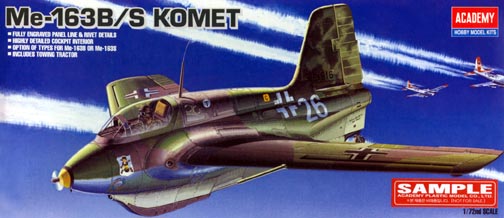 When I was offered the opportunity to do a review of ACADEMY's new Me-163B/S in 1/72 scale, I was glad the offerer was four states away, or I may have bit his arm going for this morsel. First: no, it is not a rehashed Heller mold, but I understand the old 1/48 TriMaster molds were scaled down to 1/72 and this is all to the benefit of the modeler. The kit is beautiful and it offers a somewhat simple "Scheuschlepper" tow tractor like the Heller kit. Although as simple as Heller's tow tractor, the molds are better. Let's take an eye walk through the sprues and you will see what a neat little package this kit is.
Sprue A: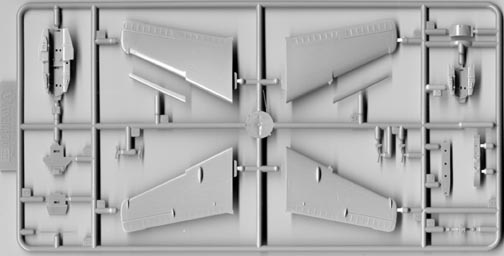 This contains the wings, landing skid, and dolly pieces, both cockpit tubs, cockpit bulkheads, control sticks, and separate wing slats, that helps render the actual slats better than engraving could have. The molds are shiny and sharp with excellent engravings that would rival any Hase-miya-miniatures kit. Beautiful work!
Sprue B: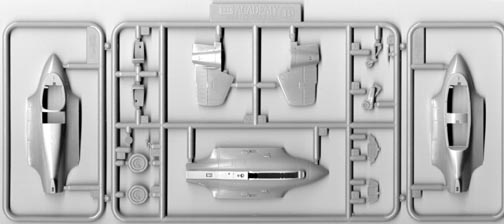 This contains the fuselage halves, which are split top and bottom. This will also relieve sanding, as there are fewer seams to sand and it makes building either the B or S version a snap. Also included are the tailplane/rear fuselage halves, instrument panels, seats, dolly wheels, two different tailwheels, and the rocket nozzle.
Sprue C: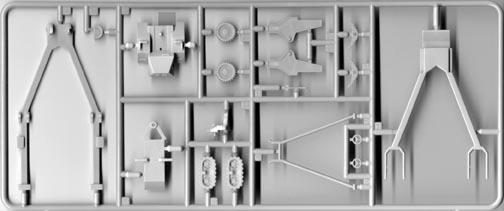 These are the parts that make up the "Scheuschlepper" tow tractor. That's not a sink hold in the underbody piece, merely a shadow.
Sprue D: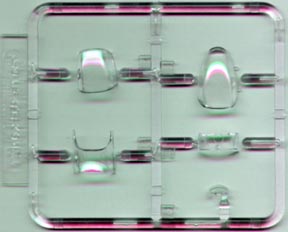 Sprue D contains the clear pieces that make up both glazings and the armored glass shield. The clear parts are very thin and crystal clear..
Decals: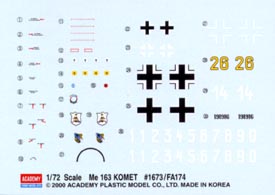 Decals look to be of very good color density and registration, but there are no swastikas, so you have to hit the spares or the aftermarket.
Instructions: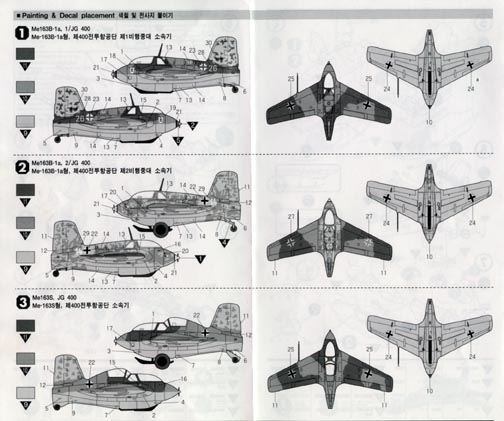 The instructions are the usual Hasegawa copy that ACADEMY use and are very good. I have no idea whose paint codes are used, but assume it is Gunze. The paint color is also called out by name, so the modeler should have no problem finding the proper color.
Conclusion:
I can't wait to get started, this kit far exceeds the old Heller example. As far as complaints, my only two would be the exclusion of swastika and seat belt decals found in previous ACADEMY kits. My thanks go out to Greg Katnik of IPMS/USA for supplying this beauty for a review. I would have purchased this kit and will get another at the low cost they sell for. Highly recommended for all ages of modelers. Stay tuned for a review in a few weeks.